Muriel's Wedding.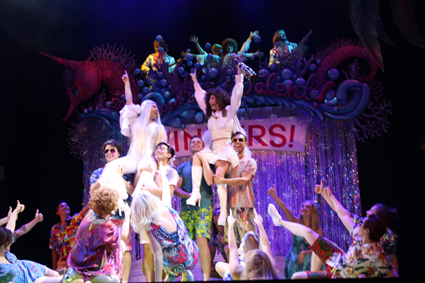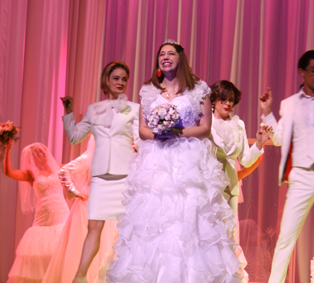 Socially awkward Muriel Heslop wants nothing more than to get married. Unfortunately due to her oppresice politician father, Muriel has never been on a date. Ostracized by her more socially aqdept friiends, Muriel runs into fellow sotcast Rhonda Epinstalk and the two move from their small Australioan town to the big city of Sydney, where Murielchanges her name qand begins the arduous task of redesigning her life to match her fantasies.
Muriel's Wedding the Musical is a theatrical version of P. J. Hogan's iconic film hit updated by the writer himself with music and lyrics by australian award winning songwriters Kate Miller-Heidke and Keir Nuttal with additional songs by Benny Andersson, Bjõn Ulvaeus, and Stig Anderson written for ABBA.
Tickets to Muriel's Wedding the Musical March 2019 season go on sale on thursday September 20. To gain priority access to presales there is a waitlist for tickets opne now at www.murielsweddingthemusical.com
Season: Opening night March 23. 2019
Taking on the role of Muriel Heslop, in her very first professional stage production is Natalie Abbot. Hailing from the South Coast og NSW, 23 year old Natalie has been 'singing since before she could talk' - according to her mother. And much like Muriel, Natalia left her small coastal town and moved to the big smoke-Sydney where she completed her bachelor of Music degree in Musical Theatre at the Australian Institute of Music.
Stepping into the role of Muriel's best friend Rhonda is young actor Elizabeth Enguerra. A graduate of the Victorian College of the Arts and training at the National Institute of Dramatic Art, Elizabeth has peformed in numerous stage productions, most recently in the Malthouse Theatre productions of Revolt, She Said, Revolt Again, and Turbine.
The remainder of the cast has just been released and includes David James as Bill Heslop, Pippa Grandison as Seidre Chambers, ansd Manon Gunderson-Briggs as Joanie Heslop.
Christie Whelan-Browne as Tania Degano, with Stefanie Jones as Nicole Stumpf, Imogen Moore as Janine Nutall with Catty Hamilton as Cheryl Moochmore.
Jaime Hadween will play Agnetha Faltskog with Laura Bunting as Anni-Frid Lyngstad, Maxwell Simon as Bjorn Ulvaeus and Evan L:ever as Benny Andersson.
Brice Nobes will be played by Hared Griffiths with Stephen Madsen as AQlexancer Shkuratov, Dave Eastgate as Ken Blundell and Keneth Moraleda as Charlie Chan.
The ensemble cast includes Colin Dean, Tom Sharah, Kaeng Chan, Noni McCallum. Ashleigh Rubenach, True Bell, David Ouch, Jan Di Pietro, Xoe Coppinger and Caitlan Quinn.
New tickets now on sale from www.ticketek.com.au n on stage experience. A limited number of extra seata will be available to experience Australia's most famous wedding by joining the company on stage to sit with Muriel's family and besties at her wedding. On Stage Wedding Guests enjoy the show from a seat in the theatre and just before the wedding scdenethey will be invited on stage to take a seat as a wedding guest.
Tickets for this very special Wedding Guest package are on sale now. visit www.murielsweddingthemusical.com for detils
Shrek the Musical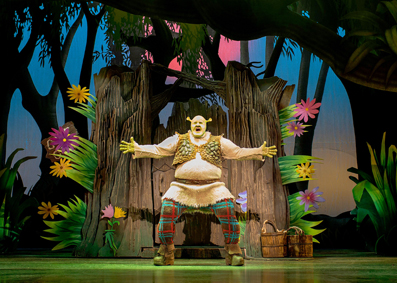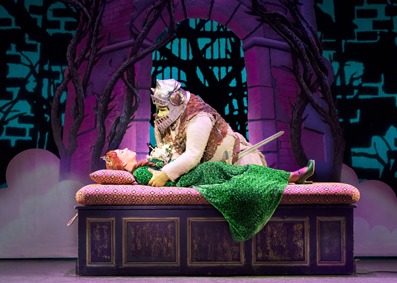 Shrek the Musical brings the hilarious story of everyone's favourite ogre to life on the stage. In a faraway kingdom turned upside down , things get ugly when an unseemly ogre - not a handsome prince - shows up to rescue a feisty princess. Throw in a dinkey who won't shut up, a bad gut with a SHORT temper, a cookie with attitude, and over a docen other fairy tale misfits, and you'ver got the kind of mess that calls for a real hero. Luckily there's one on hand... and his name is Shrek.
Ben Mingay and Lucy Durack will play the lead roles of Shrek and Princess Fiona producer John Frost announced.
Season opens 2020 Dates to be advised
Charlie and the Chocolate Factory - the new musical
Charlie Bucket finds his Golden Ticket.
Benjamin Belsey ( 10 years of age, from POint Cook), Elijah Slavinskas (10. Ashburton), Edgar Stirling (10, St. Kilda). Lenny Thomas (12, Bonbeach), and Lachlan Young ( 13. Camberwell) will share the role of Charlie Bucket in Charlie and the Chocolarte Factory. Charlie lives with his mother and his four grandparents in alittle wooden house near a great town and is the final child to find a Golden Ticket.
Willy Wonka, the most amazing, fantastic, extraordinary chocolate maker the world has ever seen, is played by Paul Slade Smith, who has been nominaed as BGest Actor in this year;s Helpmann Awards. Slade Smth was was part of the original Broadway cast of Charlie and the Chocolate Factory, appearing as Grandps George, then appeard in the Broadway revival of My Fair Lady at Lincoln Centre.
Ninety-and-a half-year-old Grandpa Joe, an enthusiadtic story teller and eernal optimist, will be playued by Australian show business royaltyTony Sheldon, also Helpmann Award niminated for this role. Sheldon is best known for playing the role of Bernadete in Priscilla, Queen of the Desert over 2000 performances in Australia, New Zealand, London, toronto and on Broadway, winning the Theatre world Award and nominations for the Tony Award for Best Actor in a musical the Drama Sesk Award, the Drama League Award and the Outer Critic's Circle Award. In the role of Mrs Bucket, a kind and caring mother and a woman of a few words, will be Lucy Maunder, nominated for Best Supporting Actress in Musical at the Helmann Awards. Step inside a world of pure imagination, Roald Dahl's Charlie and the Chocolate Factory is the perfect recippe fpr a delectable treat: songs from the original film including Pure Imagination, The Candyman and I've Got a Golden Ticket, alongside a toe-tapping and ear-tickling new score from the songwriters of Hairspray.
Charlie and the Chocolate Factory is perhas Roald Dahl's best-known story and has proved to be one of the most enduring children's bgooks of all time. The story of Charlie Bucket, the five Golden Tickets, the Oompa-Loompas and the amazing Willy Wonka has become firmly embedded in our culture since it was first published in 1964. Conservative estimates suggest the original book has sold over 20million copies worldwide; it is now availablein 61 languages.
Season opens August 9. 2019.
Performance Times: Wednesday - Saturday .30pm. Matinesees Wednesday 1pm. Saturday 2pm. Sunday 1pm and 6pm.