.

The Merry Widow

It'a an opulent part, all glitz and glamour and Parisian charm. It's an old-fashioned romance, flirty ad funny and fabulous. It's a viennese waltz and you know all the steps.
The Merry Widow is a :shimmering all-sining, all dancing Broadway style show", a frothy comedy packed with familiar waltzes ans tuneful melodies.
From the sumptuous Art Deco era costumes to the stunning, geometric sets, the show is usually stunning-someetimes you simply don't know where to look.
Julie LeaGoodwin plays the bubbly beautiful Hanna, newly wealthy, newly widowed, and suddenly the hottest catchin town. Expect sizzling chemistry with AlexanderLewis as her love interest Danilo Danilovich, as the pair reunite after their acclaimed season of West Side Story on Syndey Harbour
VenueL Joan Sutherland Theatre Sydney Opera House.
Season: January 5, -9, 12. 2021

Ernani
Ernani is an outlaw, ready to fight for his honour and die for his ideals. Butour hero is caught in a love quadrangle/. Can he win the hand of the beautiful Elvira, who is already promised to her elderly uncle de Silva and coveted by the King of Spain?
this opera has intrigue, sidguise, betraya and adventure like all the best of medieval tales. Love can triumph over almost anything, but this story has a surprising endind=g.
Season: February 2. 2021 - February 13. 2021.

Tosca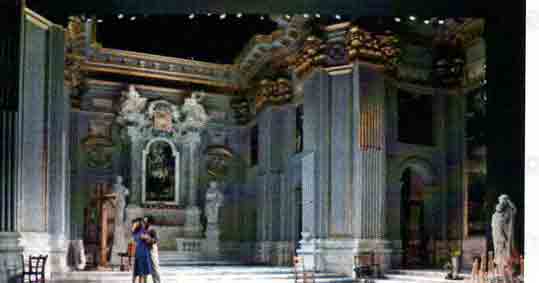 She lived for love. On this desparate day, can she find the strength to kill for it?
In a beautiful church painter Caravaradossi is working. When an escaped prisoner bursts in, Cavaradossi risks his own life to help Angelotti to hide from the Fascist police/ but Cavaradossi's lover, tosca, overhears him talking and becomes jealous in spite of Cavadossi's ardent assurances f love, itis easy for the chief of police, Scorpia to fan the flames of her jealousy He wants Tosca for himself.
Scorpia arrests Cavaradossi on suspician of aiding Angeletti, and he is tortured ,Tosca is made to listern to his cries. She has a fateful choice befire her: give into the hateful Scorpia's lasviciouis demands and save her lover's life, save her honour and kill Cavaradossi. In that terrible moment, tosca majes a choice and the consequences play out in heartrending Act 111
Season: Februiary 22 - March 13. 2021.
Bluebeard's Castle
Bartók's only opera is an astonishing achievement for a young composer/ A large orchestra conjures up Bluebeard's chilling castle. Dread and anticipation hang in the air ad intense, anguished chords. Each door takes shape in the music.
Andrea Molino brings his intense conducting talent t this work. Directors Andy Morton and Priscilla Jackman will hold you breathless as Bartók
s short pstholgical thriiller plays its ambigous conclusion.
Seasonz: March 1 - 10. 2021