Opera Australia announces new Orchestral Fellowhip
Opera Australia is proud to anounce the inaugural Patricia H, Reid Orchestral Fellowships to champion the professional development of early career string musicians.
The Patricia H Reid Orchestral Fellowships are 12-month annual prpgrams designed to assist new string musicians ( first and second violions, viola and cello) in overcoming barriers faced when seeking to enter an orchestral career.
The fellowships offer an early career string musicians the opportunity to work closely and intensely with highly experienced musicians, a bursary, and mentoring and performance activities.
String musicians are intrinsic to the quality of the orchestral sound within the operatic environment. To be successful within the industry, emerging artists need to develop skills, knowledge and repertoire along with stamina and fcus to play long operatic producvtios.
Opera Australia's Concertmaster and Orchestra Director, Jun Yi Ma, is extremely passionate about the Patricia H. Reid Orchestra Fellowship as an opportunity to encourage emerging performers.
These fellowships are made available through the generosity of the Patricia H. Reid Endowment.
Patricia H. Reid had not only a profound love for music but was also an admirer of many orchestral groups. She had a particular regard and affection for artists and musicians who not only strived for perfection within their own performance skills, but also took time and patioence to mentor and foster these skills in aspiring prefessinal musicians.
Applicants must be aged 18 by January 1, 2022, and australian or New Zealand citizens or an Australian permanent residnet."
applications close and first round video auditions due 5.00pm Friday April 9. 2021.
For more details please visit the Opera Australia website
Bell Shakespeare
Winners of Scholarsip for Yong Actors from Regional Australia
Bell Shakespeare is thrilled to anounce the winners of the 2020 John Bell Scholarship, a life-changing opportunity for young actors from regional Australia to learn from some of Australia's most accomplished actors, directors and educators/
The winners, Kody Austin from Girton Grammar School in Bendigo Victoria, Taine De Manser from Mortlake P-12 College in Mortlake victora, Xia Lian Wilson from Illawarra Grammar School in Wollongong NSW, Tess Withnell from Jaratha Senior High School in Karratha WA, were seected by a panel including Bell Shakespeare's Artistic director Peter Evans and Founding Artistic Director John Bell.
The young actors will travel to Bell Shakespeare's Sydney
Curbside Carnies
Mobile Circus
Curbside Carnies is an innovative new performing arts project. devised and created during lockdown by Reservoir local sophie deLightful to bring much-needed fun back to the Lockdaown Capital of Austrlia.
It features a custom-built roving stage that will be pulled areound the suburbs of Melbourne, stopping at predetermined locations to perform circus shows throughout the day. Eacn show will deliver a variey ofyour favourite circus acts from neighbourhood oerformers, feom hula hooping, juggling and singing, to clowning, unicycle and fire performance - suitable for kids of al ages!
The very first outing for the Curbside Carnies will be on Saturday, October 19 in Reservoir. It is completely free to enjoy!
zof course, as street-performing circus tradsition, we will have a hat in case the kids want to throw some change our way. Every little bit helps to pay our performers and maintain our stage and props.
COVID-19 safety=note. Curbside Carnies have a commitment to adhere to all social distancing rules and restrictions at the time of each outing. The Reservoir outing will feature performers from within a 5km radius and planning is in place to ensure all social distancing guidelines are being followed by cast and audience.
For more information about when and where you can see Curbside Carnies google Curbside Carnies.
Dance Europe Championships 2021
Call for Dance Schools and Groups:
The next 2021 Dance Champions Season is Ready in Europe, in Soain in the :2021 April Springtime" and Italy in the "2021 June Summertime".
Grand Dance Season 2921 is inviting participants, direcotrs, choreographers, dancers, performing arts educators, teachers, arts managers and dance lovers.
Choreograpphy Competition for Dance Schools and Groups (in Florence, Rome and Venice) from June 21 - 25, 2021, the largest shampionship in eurpe for dancers from all over the wprld.
Four days of perform Dance, Ballet, Contemporary, Modern, Hip Hop and each other kind of choreo art, in the best ancient theatres of the Italian Art Citiers.
Only a Little fee to particoate ... in order to be the protagonist of a great Italian TOURNÉE!
To find out how to qualify, mail the office space os limited, so Directors should act right away.
If interested, give us your email contact to discuss any questions you may have.
italydance2021@gmail.com
GLOW Fest 2020
A Circus Arts and Lifestyle Gathering:
After experincieng the most devasting season of bushfires then COVID-19, the arts sector is looking ever forward to a future which will once again hold promise for their creative endeavours. As her own bookings dried up and venues closed down, Melbourne cabaret performer and producer Sophie delightful;y spent lockdown [lqnning Australia's most exciting new circus arts gathering, GLOW Fest - determined to provide light at the end of the tunnel for the arts and those who appreciate them.
The sleepy surf town of Crescent Head on NSW's mid north coast, will be the beautiful setting for this boutique 4-day event. Combining circus and flow arts with explorative and innovative art installations and live performances from the inspiring realms of Australia's festival culture, this will truly be a multi-faceted arts experience. Family-friendly and community-driven, this alcohal-free event will also include a strong focus on sustainablity, participation, inclusion and positiver social interactions.
The daytime program will feature around 100 workshops, discussions and performances from dome of the top flow and circus artists across the Tasman ( including children's program on Saturday). Nightly showcases will deliver mind-blowing skills and feats of amazement, uniquely programmed and presented just for GLOW Fest. Australia's biggest art car, Bhima the fire-breathing dragon, will serve as the stunning centrepiece for art, entertainment and aerial performances through the event.
IOt will be the only arts festival of its kind in Australia providing a much-needed lifeline to connect and inspire circus communities and jids of all ages a;ong the East Coast. Given the ongoing concerns surrounding COVID-19, it os also likely to be one of the only festivals going ahead for the remainder of the year. Discussions are ongoing between GLOW Fest and Waves Campgropund regarding best practice in the festival space during the pandemic, and prganisers are confidant they have built in the flexibility to go ahead with the event in a varience of social restirctions.
Chech out www.sophiedelightful.com for mre information and access to pre-registration.
Sydney Dance Comnpany
The first part of Cuatro the four-part online work with Sydney Symphony Orchestra is now online.
Four artists, these last few months have been particularly challenging.. Theatres and concer halls across the world are closed as we stay distanced and safe. But as performers and creatives, our stigest instincts to make work fot you.
And from this desire, Cuatro was born.
This has been an uplifting and joyful experience for Sydney Dance Company. Four of the compnay's exceptional dancers and four virtuosic musicians from the Sydney Symphony Orchestra have come together, seperately to make this new work. The collaboration began online through discussions and the sharing of music, eith each element finally filmed with physical distance at Sydney Dance Company's Ultimo studios.
From isolation an separation has come exquisitwe beauty.
Cuatro is for yoy the Sydney Dance Company's audience, community, the Company's most important collaborator. A new fil will be released every Friday in June which will be free for you to view on the Company;'s website.Youtube, indtragram and Facebook. Please sdhare your experience with friends and family by usign @SydneyDance Co and #SDCKeepdancing.
Stranger than Kindness - The Nick Cave Exhibition
The Exchibition will open on Monday June 8, 2020 st the Black Diamond - Royal danish Library Copenhagen Denmark following a two month postponement due to COVIC-19 restrictions. to ensure as many guests as possibleare able to visit the exhibition, the exhibition period has also bee extended until February 13, 2021.Stranger Than Kindness - The Nick Cave Exhibition is an unprecendented look into the creative world of musicisn, storyteller and cultural icon Nick Cave. With more than 300 objects coming from Cave's own collection, the Nick Cave archive at Arts Centre Melvourne, the collections of the Royal Danish Library and a nuber of private lenders, six decades ofhis creative and private life will be brought together in larger-scale installations, making the exhition an artqork in itself.
The exhibition as developed and designed by Janine Barrand of Arts Centre Melbourne and Christina Back of the Royal Danish Library in collaboration with Nick Cave, and was created and produced by the Royal Danish Library in collaboration with the Austrlian Music vault at Arts CVentre Melbourne.
Stranger Than Kindness vibrates between the voice of the curators and the voice ofthe artist. Cave woring closely with the curators has resulted in an original take on the biographical exhibition, allowing a new experience eith the material, the objects, ane the life and stories of Nivk Cave. The emerging of biography, autobiography and fiction placed in a spatial narrative invite viositors into the artist's mythical universe of creation.
Co-curator Janine Bsrrand says " It has been a truly amazing experience to collaborate with Nicjk and Christina on reimagining his collection in a new and exciting ways. I know visitors to the exhibition will be totally immersed in Nick's evovling and wonderful worlds and never-before-seen artistic processes/
As the custofian of a large part of Nick Cave's collection since 2006, we have a deep attachment and connection to the many objects that Nick Cave has entrusted us with. Our outgoing collaboration with Nick is something we treasure and we are extremely proud to be involved in this exhibition." says Barrand.
Stranger Than Kindness - The Nick Cave Exhibition
Black Diamond - Royal Danish Library
Søren Kiergaards Plads Copenhagen Denmark
June 8, 2020 - February 13, 2021
Monday - Friday 10am 0 7pm. Saturday 10am - 6pm. Sunday closed.
Ticketing Infrmation:
Advanced Bookings advised.
Visit www.thenickcaveexhibition.com
Tickets 12€ (concessions available)
Vouchers already purchased remain valid.
Pleaser Note:
Redused Capacity: To ensure the comfort and safety of our guests, entrance to the exhibition is based on pre-booked timeslots and the hourly capacity has been reduced well below the maximuim allowed fo rhte slace.
Extended Time:The original exhibition period has been extended several months to allow as many gusts as outside of Denmark to be able to visit.
Travel: please check local and international travel restrivtions.
Nick Cave:
Nick Cave has been performing music for more than 40 years and is bsest known as the songwriter and lead singer of Nick Cafve & he Bad Seeds, whose latest album Bhosteen was widely received as their best work ever. Cave's body of work also covers a wider range of media and modes of expressionincluding film score composition and writing of novels. His recent Conversations events and REd Hand Files have seen Cave exploring deeper and more direct relationships with his fans.
Australian Music Vaults at Arts Centre Melbourne
Arts Centre Melbourne is an architectural landmark in our nation';s cultural capital, and we;ve proudly showcased the best of Australian and international performing arts for over 35 years. Together with ur own program of performances, eventsw and activities, we offer a diversity of audoences a distinctly multidimensional approach to participation, education and entertainment. The Ausdtralian Music Vault id a key initiative of the Victorian Governmen Music Works strategy , and has been developed by Arts Centre Melbourne in consultation with the music industry tpo celebrate Australian contemporary music story - past, present and future.
Toayl Danish Library:
The Royal Danish Library holds one of Northern Europe's ;argest collection of rare books, manuscripts and artists archivesd.The Black Diamond serves as a cultural venue for the Library offering exhibitions, talks, performances and concerts. The echibition team, heasdsed by Christina Back, has worked with international artists for more than a decade to explore spatial storytelling and multi-densory exhibition design.
Bell Shakespeare Special Limited Release
National theatre company Bell Shakespeare has announced that it will open its archives for a special limited release of production recordings from its recent historyexclusively for schools.
Fron Nay 25. 2020, its productions of Macbeth (2012)< Hanry 4 (2013), The Temest (2015), Romeo & Juliet (2016), Othello (2016) and The Merchant of Venice (2017) will be broadcast to registered schools fee of charge.
With all-star casts including John ell, Kate mulvany, Dan Spielman, Mitchell Butel, Jessica Tovey, Brian Lipson and more, teachers and students can watch these archived recordings from the comfort of home or school.
Bell Shakespeare Artistic Director Peter Evans said that each production would be broadcast for one week during Term 2 and one week during Term 3, to provide flexibility for schools eho have had their teaching schedules completely disrupted.
"Sadly theatres around the world are dark at the moment, so we are excited to share these shows at a time when students need theatre and artists need support.
Sharing Shakespeare with Australians is at the heart of what we do aqnd we thank everyone involved in making these shows for allowing us to share their work with schools, students and teachers at this challenging time. " he said.
Registration for the broadcasts is essential and each production has an accompanying Online Learning Pack, complete with production details, play-specific information and pre-and post-=performance activities.
The broadcasts add to the suite of digital initiatives Bell Shalespeare is currently offering to schools, students and teachers including
Specialised HSC Shakespeare Seminars designed t support students in Years 11 and 12 deliverd in partnership with University of Sydney academics.
a Teacher Master Series - Professional Learning sessions for teachers and industry delivered by BGall Shakespeare artists covering verse and prose, directing and voacla training and resentation for teachers.
The Bell Shakespeare Shorts Festival - a festival of short films made by students about and inspired gby Shakespeare and
The John Bell Scholaship-online auditions ae avaiable for this life=changing training oppertunity for budding performers from regional Australia.
For registration details and information on all Bell Shaklespeare;s education intiatives go to bellshakespeare.com.au or contact learning@bellshakesoeare.com.au

John Bell Scholarship Winners 2019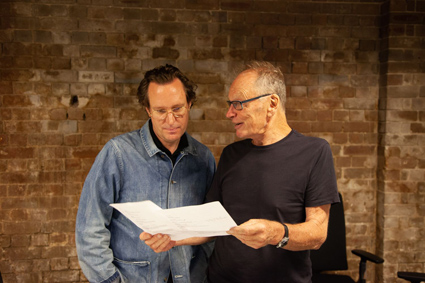 Bell Shalespeare has accoiunced the recipients of the 2019 John Bell Scholarship, a once-in-a-lifetime opportunity for young actors from regional Australia to learn from some of Australia's most respected actors, diectors and educators.
The recipients - Stella Bavey from Bathurst N.S.W. , Promise Mutzingwa from Tranmere, Tasmania, Hanna Bourke from Rockhampton Queensland, and Grace Ebelebe from Darwin Northern Terriotory - were selected by a panel including Bell Shalespeare's Artistic Director Peter Evans and Founding Artistic director John Bell.
The young actors will travel to Bell Shakespeare's Sydney Headquaters in January 2020 to undertake acting masterclasses and backstage tours, watch live performances and observe rehearsals for Hamle, featuring Harriet Grodon-Anderson and Lisa McCune. At the end or the weeklong program, they will erach perform a Shakespaeran monologue for the cast of Hamlet before receiving expert feedback and career advce.
410,000 Grants avaialble
Rob Guest Endowment announces Major Changes
The Committee for the Rob Guest Endowment, one of Australia's most exciting scholarship programs providing financial assistance and industry support to the next gerneration of musical theatre stars, announced major changes to the Endouwment. The winner of the Rob Guest Endowment Award will now be awarded a $50,000 prize along with the coveted RGE Trophy, making the award the largest single Musical Theatre scholarship in Australia. Melbourne's East End Theatre Director Artist Development award will aldo be increased to a $10,000 cash prize. The competion will now ve offered buennially with the next Endowment boasting a total prize pool of over $75,000
Carrick Hill
Carrick Hill announces Spectacular Sundays as $2.4 million building workd commence.
The Spectacular Sundaya will take place on the third Sunday of each month from August 20019 through to May 2020.
The program commences Sunday August 18. 2019 with a theme of Books, Books, Books coinciding with National Children's Book Week. Gates open at 10am with story readings at 11am and 2.30pm on Carrick Hill's the Story Book Trail. Music will be performed on the terrace and refreshments will be available in the Carrick Hill Marquee. Gates close at 4.30pm
The Spectacular Sundays programming comes as work begins on the $2.6 M building program that will increase Carrick Hill's interior accessibility and capacity to host a broader range of public programs, events and activities. The works are due for completio in May 2020. During this time the interior of the house will be closed to the public. Free admission to the grounds continues weach weekend.
Richard Heathcote Director of Benefaction for DCarrick Hill said,"The gbuilding work includes the construction of s new 30 metre Long Gallery in the presently unused (and never seen before opened to the public) attic space, together with the installation of an elevator. Staff and administration facilities will sldo be reconfigured to free up additional space enabling a number of rooms in the guest wing to be returned to their original function. The works are part of an overall Master Plan development for Carrick Hill totalling $9.5m."
Carrick Hill. the former residence of Sir Edward and Lady Hayward is one of South Australia's most valuable historic assets and an important window into Adelaide's past. The house and grounds were geenerously bequeathed to the State by the Hayward's in 1983 for the public to enjoy. Carrick Hill represents one of the best, most intact examples of fine mid-twentieth century living in Australia.


Circus Oz News
Circus Oz annoounces that Penny Miles is appointed as Circus Oz Executive Director.
Circus Oz Chair, Nick Yates, explained thet Miles has excellent arts industry experiencve, lleadership qualities and cicus sector knowledge. " the Board and I look forward to working wiht Penny to take Circus Oz to new heights in Australia and internationally, ensuring that we continue to delight audiences in one of the most accessible art forms".
" As part of our comprehensive search and recruitment process, the Board were pleased with not only the level of interest in this new poeition, but also the quality of the applicants - which made our decision very tough. We are delighted that Penny has accepted the tole", said Mr Yates.
Miles is thrilled to be appointed as Circus Oz Executive Director. "it's an honour to join an iconoc Australian culteral company that has delighted audiences for over 40 years. I'm looking forward o woorking with the team to dream, deliver and shape the next chapter."
" My genuine passion for the spirit of circus started from my time touring wwith the Flying Fruit Fly Circus and more recently with Circa. Circus is led by a foundation of trust and collaboration and built on challenging and calculated risk taking p it matches my style and approach. I cannot wait to get amongst it," explained Miles.
As General Manager of Arts on Tour, Miles worked with makor producers and small independent artists to develop strategies and expand their national touring footprint.
Acknowledfing her commmitment to touring in 2013 ZMiles received the Performong Arts Connections Australia Tpouring Legend award.
Mile will commence at Circus Oz in September 2019.
Since March 2019, Circus Oz General Manager, Tahlia Azaria, and Circus Oz Director of National Programming, Mtt Hughes, have acted as Circus Oz Co-Ceo.
" The Board and I would like to thank Tahlia and Matt for their strong leadership. commitment and guidance to the comoany over the past six months." siad Mr Yates.

Cisuc Oz
Credited with revitalising a traditional form in a uniquely Australian way, Circus Oz has influenced the development of circus arts around the world since its foundation in 1978. As Melbourne's homegrown circus troupe, Circus Oz undertook its first and crtically praised international tour in 1980 and has continued touring over 100 cities and regions in 28 countries - playiong to over 4million people. The company now celebrates a new era featuring bold collaborations, and works opf varying scale and style. Expect emotional journeys of breattaking ability. death-defying stunts, awe-inspiring acrobatic performances, irreverent comedy and spactacular live music.