Judith Roberts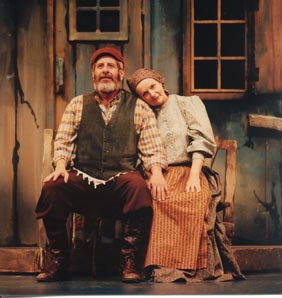 Well known and gifted Judith Roberts returned to her favourite theatre Her Majesty's on June 10, 2007 and recreated her role as Golda in Fiddler on the Roof. Readers may remember Judith in this role at Melbourne 's Regent Theatre starring opposite Topol...
Originally Melbourne and the Regent Theatre was to be the only venue in Australia for Fiddler on the Roof. But the popularity proved too great and the production has recently completed an eight week season at The Capitol Sydney and moved for a short season in Brisbane before returning to Melbourne .
Judith has appeared in all the Australian professional productions with Topol.
Her background is the daughter of a schoolteacher who taught in country schools and on visits to Melbourne used to drop Judith and her sister into whatever theatre was open such as Her Majesty's, The Tivoli, The Princess and The Comedy. At four years of age Judith accompanied her older sister to dance classes and loved it. At school she entered in all the school plays not only acting but doing everything to do with the production. She told her teacher that she wanted to be a dancer and an actor. Judith was told that you cannot do both but Judith's reply was Sir Robert Helpmann did it.
Fortunately for Australia and the theatre Judith did not let such comments deter her and went on not only with dancing and acting but later included singing. One her first companies was when she was working full time was The Spanish Ballet Company of Caramina. Caramina was an Australian who studied the art of Spanish Dance in Spain and England returning to Australia to form her own company. During her studies with the Spanish Dancer Company Judith choreographed a Spanish ballet which proved very successful.
While with the Spanish company her performance came to the attention of Betty Pounder the choreographer of J. C. Williamson the leading theatre owner and producer of the time.
Judith's first professional role was Gertie in the musical The Sentimental Bloke. This was followed by My Fair Lady, How To Succeed in Business Without Really Trying, Sweet Charity and Promises, Promises. These were all with J. C. Williamsons. As a member of J. C. Williamsons you were assured of moving onto the next production.
Life on stage is never easy but in the days when Judith commenced there were no such courses as The College of the Arts, NIDA, West Australian Performing Arts and the Music Theatre, University of Ballarat . Judith found classes in acting and singing while doing dance classes with such people as Borovansky and all this while performing on stage.This training in the three disciplines referred as the Triple Threat allowed her to continue performing in many musicals, reviews and cabarets such as Tikki and John's and The Old Vic in Melbourne
Judith Roberts' TV career include Prisoner, Special Squad, Homicide, Carson 's Law plus many others. Her films include You and Your Stupid Mate and strange Fits of Passion which was entered in the Cannes Film Festival.
With all this experience her agent contacted her re a role in Fiddler on the Roof. Even with all her experience Judith had to audition like everyone else. Passing the first audition she was asked to return and a tape was made of her audition and sent to Topol in Tel Aviv, Israel . Topol liked what he saw, passed the tape onto New York with his recommendation. The rest as they say is history. Judith handles the role as Golda with expertise and has a great rapport with Topol, so when the production returned to Australia Judith was automatically Golda.
The Melbourne repeat production is to be directed by Sammy Dallas Beyes who is reproducing the original Broadway production. The Book is by Joseph Stein, Lyrics by Sheldon Harwick and music by Jerry Boch.
The story is set around the Ukrainian village of Anatevka jointly shared by Cossacks and Jews and both under the thumb of the Russian invaders. The little village whose population is represented by the milkman Tevye (Topol) and family plus all the characters of such a village. It shows the family life, the difficulties of living with two different cultures in one village and the persecution ordered by the Czar.
It is a story of displaced people which is still relevant today.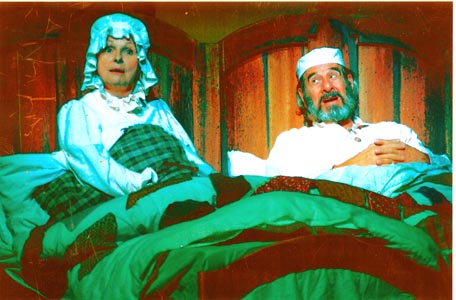 ------------------------------------------------------------------------------------------------------------------
The Australian Ballet's Coryphée Amber Scott.
Amber Scott a pleasant natural young lady who when talking to gives no idea of the talent and expertise that she has shown with her years of dancing and place in The Australian Ballet.
She started dancing at the age of three, born in Brisbane and then before the Australian Ballet School trained at the Anne Fraser School of Dance and the National Theatre Ballet School .
Amber was awarded the 1998 Bronze Medal at the Adeline Genee Awards, First place in the Junior 1999 Asian Pacific International Ballet Competition and The Australian Ballet Society Scholarship in 2000. She performed Dawn and Prayer in the 2000 Dancers Company tour of Coppelia.
Amber graduated from The Australian Ballet School in 2000 as Dux of her year, before joining The Australian ballet in 2001. She has performed in ballets such as Giselle, Manon, Etudes, Beyond 40, Sentimental Bloke, Coppelia and Spartacus. She has also performed soloist roles in Swan Lake , Catalyst and Symphony in C. In early 2003 Amber spent five months in Denmark with the Royal Danish Ballet as part of a dancer exchange program. She told your correspondent that she loved her time in Denmark where she learnt a lot, found the dancers laid back and friendly and was surprised that the Danish Royal family take a great interest in the Royal Danish Ballet Company. Amber said that the Danish company don't do as many shows as The Australian Ballet,they do one international tour a year and occasionally a rural tour. One of her delights was learning the August Bonneville style of ballet which is a feature of the Royal Danish Ballet.
She was excited to new styles and new faces the great opportunity to learn and develop herself as an artist. With the knowledge learnt Amber will enhance her future performances and considers these overseas trips an advantage to her future in the arts.
Amber, after this trip is amazed at the work that ballet dancers in Australia put in. Also considers that the Australians do not go for the star system as much as abroad.
On return to Australia in 2003 she performed with The Dancers Company as guest artist in their production of Giselle.
She has danced in Darwin at the Darwin Performing Arts Centre and in outdoor venues where she found that with a temperature around 32Degrres it was very easy to dance as the body did not need the warm up as in colder climes. Unlike most young people these days she realises the value of the correct food and is fortunate the Ballet Canteen serves nutricius food as the body does need plenty of energy.
In July of 2004, Amber was promoted to coryphée. She was one of four leading artists from The Australian Ballet to tour with The Dancers Company in 2004 and starred in Nutcracker For the Alice Springs and Darwin sector of the tour.
2004 saw Amber win the Telstra Young Ballet Dancer of the Year award, the highest accolade of its kind available to an Australian dancer. Making a clear sweep of the competition Amber collected both the award judged by The Australian Ballet artistic staff and Principal Artists and the coveted People's Choice Award.
Some of her favourite choices of dance are modern and classical. She loves Graeme Murphy's Swan Lake with its balance of a modern outlook but keeping the traditional as well. Amber feels that it is a great vehicle for a ballerina.
A young girl with a great future Amber Scott is a delight to talk to and understands the difficulties of the dance but quite prepared and happy to work hard to obtain her dreams.
Tiffany Speight

One of Opera Australia's rising young stars is Melbourne 's own Tiffany Speight. Chatting with Tiffany she told your correspondent that she was originally a dancer and appeared with Famco and Doncaster companies in such productions as Annie Get Your Gun, Brigadoon and Oklahoma . Like many of our professional theatre people Tiffany started in the amateur circuit with the above groups. With very supportive parents she started on stage while she was still studying. Not only successful on stage Tiffany also passed her exams. Unfortunately for her dancing career but fortunately for opera lovers she was involved in a car accident and injured her feet. Her mother persuaded her to take up singing and the results speak for themselves.
She graduated from the Victorian College of the Arts which she thanks for giving her discipline and maturity which has helped her career. At the college she was awarded the Dame Mabel Kent Scholarship for singing. She has been awarded several scholarships including a Queen's Trust Award, which enabled her to study in Paris, the Richard Divall Encouragement Award and the Kitty Fisher Gift which was awarded at the finals of the Mathy Singing Competition held n the Sydney Opera House.
Tiffany made her opera debut as Cupid in Semele with the Victorian State Opera and in 1996 was a Young Artist with the VSO, where she sang Despina in Cosi fan tutte and Dienerin in Die Frau ohne Schatten at the Melbourne Festival.
As Tiffany continued to develop her craft, she performed roles such as Giannetta in The Gondoliers, Tebaldo in Don Carlo, Barbarino in The Marriage of Figaro, Ida in Lindy Hume's production of Die Fledermaus for Opera Australia, Angelica in Orlando (for Ozopera).
As Tiffany started off in dance and has acting experience and was told that if her singing voice did not reach the standard required for opera she would have a successful career as an actor. Due to this versatility Tiffany is in constant demand on the concert platform. She has given performances in such various venues as Opera Under the Stars in Broome, the Castlemaine State Festival and Opera by George, the Prime Minister's Olympic Dinner for the Australian Olympic Team, a gala farewell to the Korean team for Music Theatre Australia with the Seoul Symphony Orchestra, concerts with the Australian Pops Orchestra including From Camelot to phantom and Gilbert & Sullivan.
As the recipient of the 2002 Vienna State Opera Award, Tiffany spent the first part of 2003 in Vienna and made her European debut at the Vienna Staatsoper in the role of Countess Ceprano in late January. Tiffany enjoyed her time in Europe and was interested in the differences between European and Australian views on performing. In Europe they go on and off without being told much about what they are doing. Australians apparently are more versatile and learn more about the production as a whole. The Australian has a more freer and independent attitude then the Europeans and Americans. The Americans are more toward confirming and developing as others whereas the Australian voice is free and open, and the Australian performer is more independent and develops their own individualistic style.
Tiffany told your correspondent that some the hardest audiences to deal with are children. She toured Victoria with Ozopera's Sid the Serpent and found the children did not hesitate in letting the performers know what they felt. Tiffany said it was also very satisfying to hear an honest reaction.
2005 sees Tiffany Speight will sing Frasquita and Micaela in Carmen, Pamina in Die Zauberflote, Josephine in HMS Pinafore and Gretel in Hansel and Gretel for Opera Australia. For Opera Queensland she sings Susanna in Le Nozze di Figaro.
Above is just a small summary of Tiffany Speight's career and to talk to she is a sheer delight obviously thoroughly immersed in her art and a bright, cheerful and happy person.